IFuture Technologies Pvt. Ltd. SEO Case Study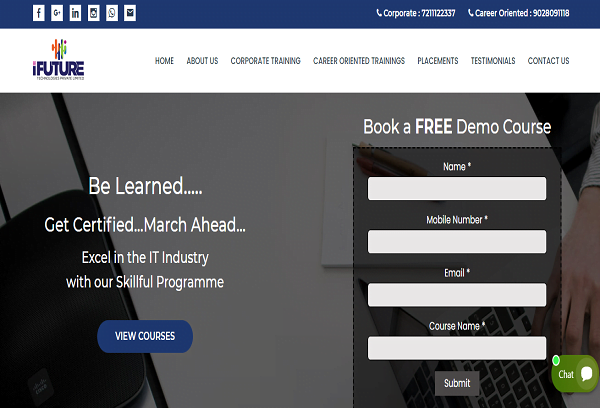 Business
IFuture Technologies Pvt Ltd is a leading IT training company offering a wide range of courses in IT, application, and management for corporates as well as students and professionals. The company has entered partnerships with several technology majors and offers corporate training courses in Red Hat, Microsoft, Cisco, Citrix, ITIL, VMWare, and CompTIA.
With over 15 years of experience, IFuture Technologies provides training for widely used applications like JAVA, MS.NET, Acrobat Dreamweaver, Adobe Flash, Adobe Photoshop, and Apple Crystal Reports. Their programs also include internships, interview, and grooming sessions besides access to attractive placement opportunities.
The company has also designed soft skills training modules for corporates besides behavioral training, communication and sales training, sig sigma or leadership training programs in line with the global industry requirements.
Challenge
A major challenge faced by IFuture Technologies was that despite being a leading training company, its website did not have a good ranking on the Google search page. Many of its smaller competitors with much lesser impressive websites were, however, finding a place in the top rankings of Google. A review by the company's co-founder and Technical Head, Mr. Naresh B Khandare, revealed that no keyword research had been done before establishing their website.
To resolve the issue of lower Google rankings, Mr. Khandare approached Earn SEO and provided them with a list of his company's competitors. He also sought help on ways to enhance their website's rankings and boost traffic. Our team was highly confident of improving their website's visibility in terms of keyword usage.
Solution
With the list of competitors in our hand, our team at Earn SEO embarked on thorough research. Discussions were also held with M. Bhandare to finalize a list of targeted keywords. This was followed by the inclusion of the selected keywords in the title and meta tags on the website of IFuture Technologies. Our team also worked to remove some redundant codes on the website besides optimizing on-page factors to ensure that it met the guidelines set by the major search engines.
Results
The efforts of our team in improving the website of IFuture Technologies paid off and resulted in its move to the top position for ten main keywords related to IT training in all search engines. The website's organic traffic also witnessed an over four-fold increase from 5000 before approaching earn SEO to 21000 now. Another benefit of our efforts was the increased no of inquiries and their successful conversion into customers. IFuture Technologies was extremely happy with the results and recorded a Return on Investment in terms of revenue vs the fees paid to earn SEO of 1200%. Mr. Bhandare even said that he will recommend Earn SEO to others.
350%
Increase in Organic Traffic